About Us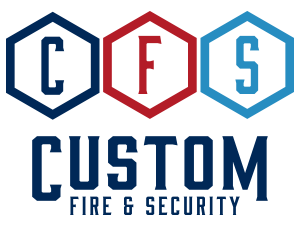 Custom Fire and Security began in 2015 and is owned and operated by a group of Business Partners.  One of the Partners, Art Thomley, has almost 30 years of extensive Fire Alarm and Security Industry experience that includes 17 years at Simplex, 5 years at Siemens and 2 years of Honeywell Gamewell-FCI experience.  Combine that with more than 30 years of access control, CCTV systems, Nurse Call systems, Clock and Bell Systems, Intrusion Systems, Paging Systems, Engineered Sound Systems, Intercom Systems, and Detention Control Systems, we have the knowledge and experience to install, inspect, and service your facility.
We also offer Central Station Monitoring Services for your Business or Home.  With State-of-the-Art Technology, we can provide you with the best options in today's market, including Video Verification that you can see on your personal computer, cell phone or tablet, regardless of your location.
We offer a complete line of top quality products including Honeywell Gamewell-FCI, Fire-Lite, Silent Knight, Lenel Access Control, Arecont CCTV, Digital Watchdog CCTV Software, and Hikvision, along with numerous other offerings.  All of which are among the best in the Industry with a long history of reliability and cutting edge technology.
Although our products speak for themselves, we understand that it is the relationship with each and every Customer that truly counts.  We pride ourselves on excellent communications with our Customers to ensure their satisfaction.  We understand that each Facility is a different environment that sometimes requires sensitive needs and/or specific protocols.  We have many years' experience working in High-Security Facilities, as well as Health Care and Educational Facilities.
We are licensed with the State Fire Marshal's Office (License #15024173), the MS. State Board of Contractors, and we have NICET Level IV Certified Technicians on staff in Fire Alarm Systems.
Please contact us today for a free analysis of your Fire Alarm or Security System.  We provide a free analysis of the current state of your system, as well as your Inspection Reports and Service History.